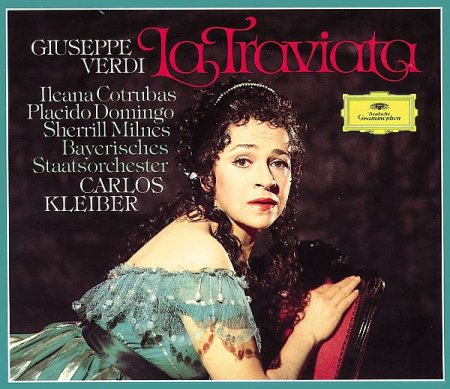 Artist:
Ileana Cotrubas, Placido Domingo, Sherrill Milnes, Bayerisches Staatsorchester & Carlos Kleiber
Title Of Album:
Verdi: La Traviata
Year Of Release:
2016
Label:
Deutsche Grammophon
Country:
Various Countries
Genre:
Classical
Quality:
FLAC (*tracks, booklet)
Bitrate:
Lossless [96kHz/24bit]
Time:
01:49:59
Full Size:
1.96 GB
Carlos Kleiber's 1977 La Traviata is a rare gestalt among studio opera recordings, and it is one of the conductor's finer achievements. Kleiber knits the score together with unwavering rhythmic and dramatic intensity, never allowing any single moment to eclipse the larger scene or musical structure. The singers are kept on a tight leash -- given enough room to shape phrases and cadences, but not to indulge in sheer vocal display. The orchestra is similarly focused on realizing every detail of rhythm, melody, and articulation with vivid intensity. As a result, favorite arias, duets, and ensembles melt into the surrounding scenes in a way that invites curiosity about the drama at large while propelling it relentlessly forward. The general pace may strike some as a bit fast, but it's never boring, and frequently brilliant.
Ileana Cotrubas, Placido Domingo, and Sherrill Milnes all sound as if they're fully on board with Kleiber's vision: impassioned, but never indulgent. Cotrubas has all the vocal tools to handle Violetta's demanding music, but also a vivid humanity that brings credibility to the opera's final scenes; the fact that she seems too serious during the carefree opening is a reasonable tradeoff for believable tragedy at the end. Domingo delivers one of his most vocally disciplined performances; that cleanliness of delivery, combined with the natural Latin fervor of his sound, forms just the right cocktail of nobility and impulsivity for the young Germont. Milnes sings with unusual sensitivity, simplicity, and opulence as the elder Germont.
Listeners who like to skip to the highlights when listening to operas may not appreciate this recording as much as those who want the full dramatic experience. Certainly, all of the famous arias and ensembles have been sung as well or better on many other recordings -- often with more grandeur and sense of occasion, making them more compelling as stand-alone excerpts. But Verdi's skill at shaping dramatic scenes, managing tension, and illuminating character through vocal expression has never been more clearly illustrated, and it can be argued that La Traviata has never been more fully realized on record. -- Allen Schrott
Tracklist:
Act 1:
01. Prelude
02. Dell'invito trascorsa e gia l'ora
03. Libiamo ne'lieti calici (Brindisi)
04. Che e cio?
05. Un di felice, eterea
06. Ebben? che diavol fate?
07. Si ridesta in ciel l'aurora
08. E strano! - Ah, fors'e lui
09. Follie! Delirio vano e questo! - Sempre libera
Act 2:
10. Lunge da lei - De' miei bollenti spiriti
11. Annina, donde vieni? - Oh mio rimorso!
12. Alfredo? Per Parigi or or partiva
13. Pura siccome un angelo
14. Non sapete quale affetto
15. Un di, quando le veneri
16. Ah! Dite alla giovine
17. Imponete Non amarlo ditegli
18. Dammi tu forza, o cielo!
19. Che fai? Nulla
20. Ah, vive sol quel core
21. Di Provenza il mar, il suol
22. Ne rispondi d'un padre all'affetto? No, non udrai rimproveri
23. Avrem lieta di maschere la notte
24. Noi siamo zingarelle
25. Di Madride noi siam mattadori
26. Alfredo! Voi!
27. Invitato a qui seguirmi
28. Ogni suo aver tal femmina
29. Di sprezzo degno se stesso rende
30. Alfredo, Alfredo, di questo core
Act 3:
31. Prelude
32. Annina? Comandate?
33. Tenesta la promessa - Attendo, no a me giungon mai - Addio del passato
34. Largo a quadrupede
35. Signora... Che t'accadde... Parigi, o cara
36. Ah, non pio! - Ah! Gran Dio! Morir so giovine
37. Ah, Violetta! Voi? Signor?
38. Prendi, quest'o l'immagine
DOWNLOAD LINKS: Carlos Kleiber - Verdi: La Traviata (2016) (Hi-Res) FLACDownload | TurboBit
https://turb.pw/619mqjfjotes/Carlos_K_Verdi_La_Traviata_FLAC.rar.html

Download | HitFile
https://hitf.cc/OPfeln5/Carlos_K_Verdi_La_Traviata_FLAC.rar.html

Download | Turbo.to
https://turb.pw/619mqjfjotes/Carlos_K_Verdi_La_Traviata_FLAC.rar.html

Download | Hil.to
https://hitf.cc/OPfeln5/Carlos_K_Verdi_La_Traviata_FLAC.rar.html

Download | RapidGator
https://rg.to/file/e389bd1c717a39cbdf3e24f5acb2f37a/Carlos_K_Verdi_La_Traviata_FLAC.rar.html

Понравилась новость? Расскажи друзьям!